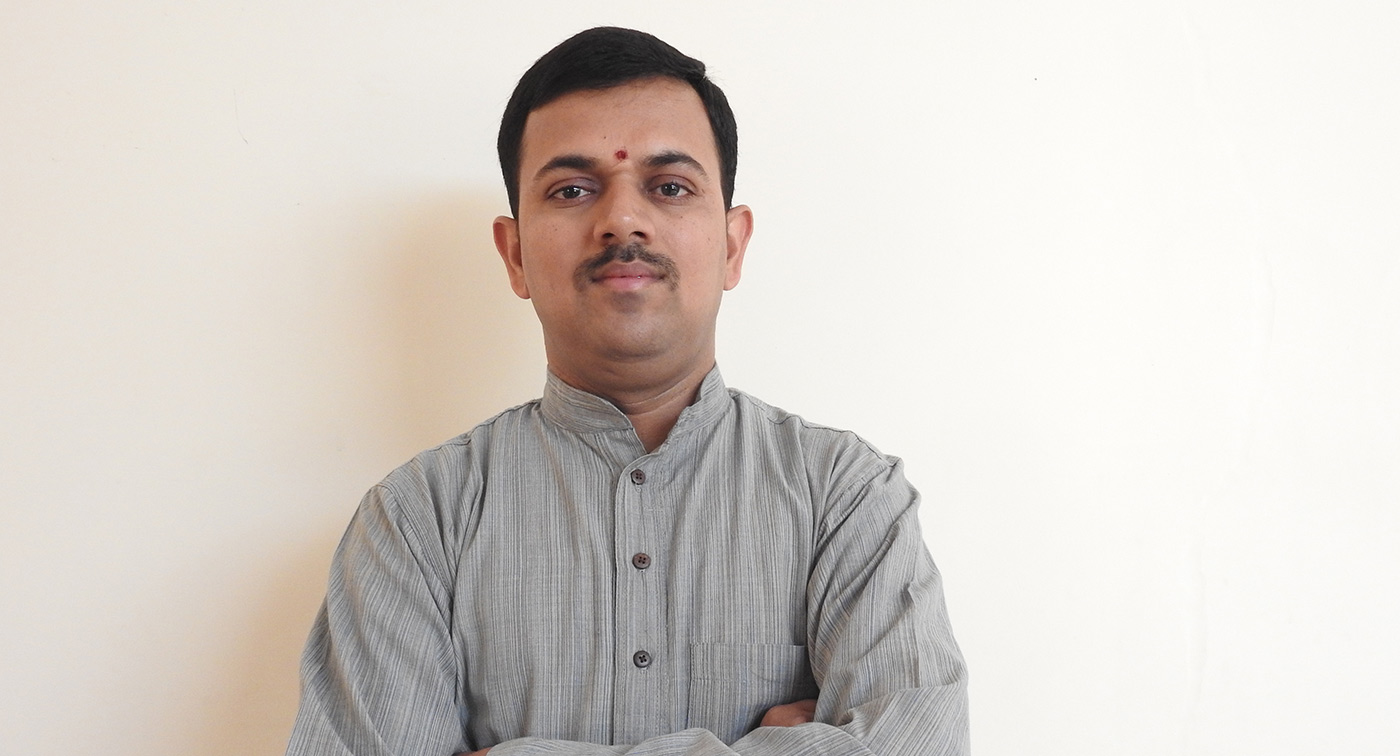 Vidwan Lakshmish Bhat
Lectures of chanting Astanga Yoga Mantras and explanations of the yoga text Hatha Yoga Pradipika which forms the basic for yoga practitioners.
We are very honored to welcome Lakshmisha to Yogashala Stockholm. You will have a unique opportunity to meet a genuine Indian scholar teaching directly from the source of Indian yoga philosophy.
Born into a humble Brahmin family in a village called Madageri near Gokarna, Lakshmisha Bhat has been associated with Guruji Sharath Jois for close to two decades.
Keen on learning ashtanga yoga, Lakshmisha undertook yoga asana practice under Guruji Sharath Jois. In the meantime, he also received the Vidwan title from the Sanskrit College in Advaita Vedanta philosophy and completed his master's degree in Sanskrit from Mysore University in 2006. He studied Sanskrit by the traditional method in his village for continuous 8 years and in the year 2000 he came to the Mysore Maharaja Sanskrit College for further studies of Advaita Vedanta. In 2006 he married Ranjita and have a son, Gautama who is now 12 years old.
It was upon Guruji Sharath Jois's request that Lakshmisha started teaching Sanskrit and yoga-related theory to the increasing number of yoga students who come to KPJAYI for yogic knowledge, Lakshmisha joined the shala as a teacher of Sanskrit, chanting and yoga-related theory in the year 2003.
Lakshmisha also conducts the traditional Brahmin puja rituals every day in his home and at the yogashala for the benefit of the students and the family, as part of his work at KPJAYI.
Lakshmisha will also be visiting following studios on his European tour
ashtanga-yoga-freiburg.de  April 14-16
ashtangayogamonzabrianza.it April 3-5
Astanga.dk April 6-7
ashtangayogamalmo.se April 8-9
https://delightyoga.com  April 10-12
Friday April 17
5.30 pm – 6.30 pm Puja
6.30 pm – 8 pm Introduction to Lakshmish background, family tradition and Vedic studies as well as his connection to the Jois family. He will introduce Sanskrit recitation of the mantras, names of asana and vinyasa in ashtangayoga.
Saturday April 18
8 am – 9:45 am Ashtangayoga led class with Lisa Lalér
10:30 am – 12:30 pm Hatha Yoga Pradipika – what is this yoga text about and what does it mean -in the Indian tradition of Yoga, including chanting of verses especially from the 1st chapter, the basics for a practitioner of yoga including the relationship between teacher and student, guru-śiṣya, parampara and the significance of this in Indian view. Hopefully with a few stories of Lakshmish' experiences in Mysore.
12.30 pm – 2 pm Lunch break
2 pm – 4 pm Chanting of mantra – ashtangayoga, asana names and numbers.
Sunday April 19
10:00 am -12:00 pm: HYP more selected verses, chanting and explanations. Lakshmish will take us further into HYP step by step based on yesterdays teachings and discussion
12:30 pm – 1:30 pm Chanting of mantra – ashtangayoga, asana names and numbers.
Workshop with Lakshmisha April 17 - 19
Plats: Shala Zinken, Ringvägen 9 D
Kursperiod: April 17 - 19
Dag: Friday - Sunday
Tid: Friday 6-8 pm, Saturday 8 am - 4 pm, Sunday 10 am - 13.30 pm
Lärare: Vidwan Lakshmish Bhat
Pris: 1100 kr