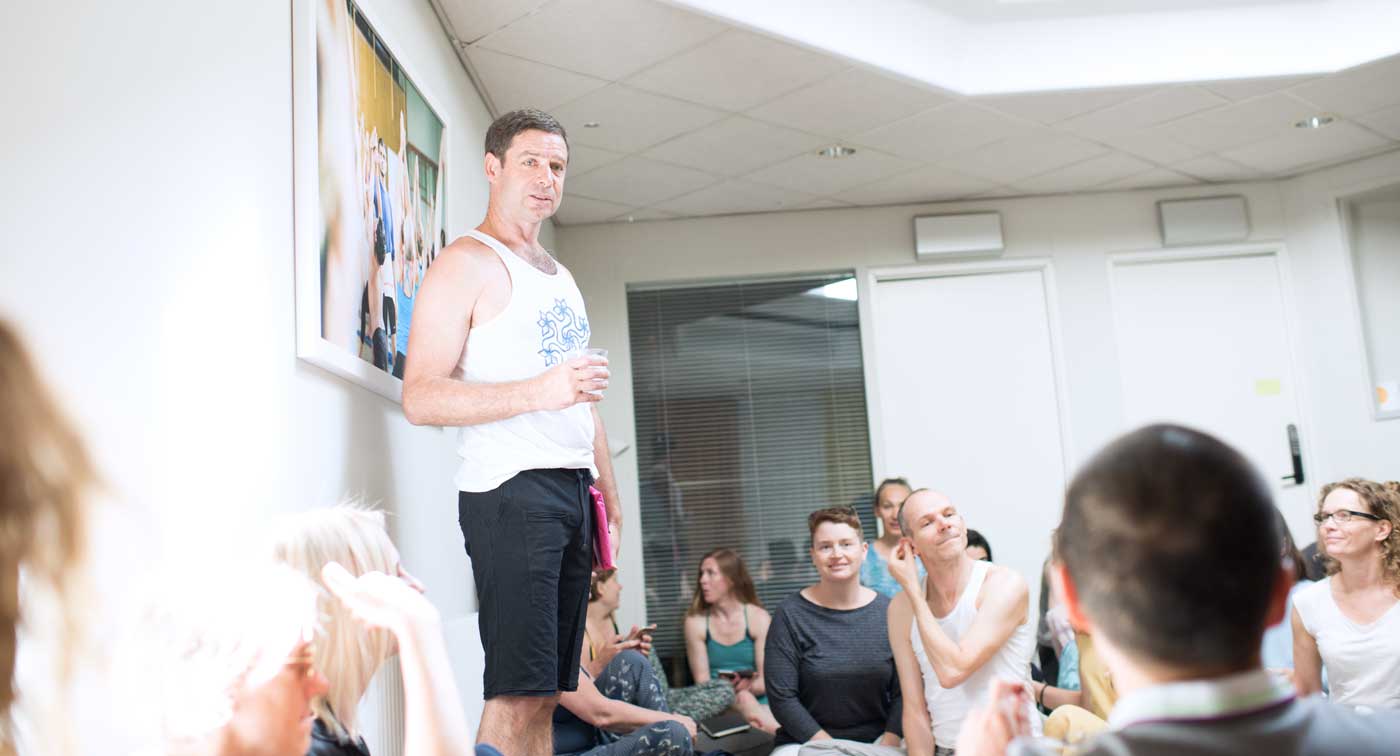 Workshop
Peter Sanson
Peter Sanson is coming back to us in Stockholm for a workshop May 17-25 2022 for the 11th time. We are looking forward so much to come together with you all for this wonderful event.
Program:
You can chose to sign up for the full workshop May 17-25 or one week, either May 17-20 or May 22-25.
Morning mysore. You select your time when you sign up.
Friday May 20 after the morning class: Conference/Talk with Peter
Saturday May 21 "Rest day"
Sunday – Wednesday May 22-25
Morning mysore. You Select your time when you sign up.
Wednesday May 25 after the morning class: Conference/Talk with Peter
Since meeting Shri K. Pattabhi Jois in 1989, Peter Sanson has traveled to Mysore, India every year to continue his studies.
Over a 25 year period of study, Peter lived in Mysore three to twelve months of each year; Immersing himself in the rich tradition of this ancient practice, guided by Guruji's masterful hand. During this period he undertook Sanskrit studies with senior teacher Professor Sri Narayanacharya. Peter also received instruction from Guruji on the accompanying Pranayama for advanced asana practice.
Peter is one of only a few senior teachers worldwide who have been certified by Guruji to teach 4th series (advanced B series). Central to Peter's approach is that he views each student as unique and approaches the teaching of Ashtanga as a form of physical therapy. Peter strictly observes that students learn the traditional sequences of asana –  without skipping postures or modifications.
Read more about Peter on his web site.
www.petersanson.co.nz
Terms and conditions
Registration is binding and there are no refunds. If something happens so you can't make it to the workshop, you can try to sell your spot thru one of the ashtangayoga forums on social media. Please do contact us if you find someone to take your spot and send us the contact information to the new participant.
Cancelled workshops and refunds
A purchased place for a workshop will be refunded only in case of a cancelled workshop. A workshop is cancelled if it simply can not be completed. Changes in dates, venue for the workshop or a partially completed workshop are thus not a suspended workshop, and the money is not refunded. In the event of Force majeure, epidemics, strike, lockout, fire, explosion, war or similar conditions, restrictions from authorities or other circumstances beyond Yogashala Stockholm's control, we warrant to cancel the terms without any obligation to pay damages or compensation.
Regarding travel, hotel or other expenses incurred in connection with a suspended or moved workshop
Yogashala Stockholm is not responsible for any lost travel, hotel or other expenses incurred in connection with a changed / cancelled workshop.
If these circumstances arise, it is your responsibility to make sure that the event is performed as planned before you travel. We do our utmost to inform you about cancelled events and / or date changes. However, situations where we can not contact all customers may arise. We therefore recommend that you check that the workshop is confirmed and will take place before you travel.
Kurstillfällen:
Workshop Peter Sanson, start time 5.45 am May 17-20 och 22-25
Location: Shala Zinken, Ringvägen 9 D
Course Period: May 17-20 och 22-25
Day: Tuesday - Friday and Sunday - Wednesday
Time: 5.45 am
Teacher: Peter Sanson
Price: 3200 SEK
Workshop Peter Sanson, start time 7.15 am May 17-20 och 22-25
Location: Shala Zinken, Ringvägen 9 D
Course Period: May 17-20 och 22-25
Day: Tuesday - Friday and Sunday - Wednesday
Time: 7.15 am
Teacher: Peter Sanson
Price: 3200 SEK
Workshop Peter Sanson, start time 7.15 am, week 1 May 17-20
Location: Shala Zinken, Ringvägen 9 D
Course Period: May 17-20
Day: Tuesday - Friday
Time: 7.15 am
Teacher: Peter Sanson
Price: 1800 SEK
Workshop Peter Sanson, start time 7.15 am, week 2 May 22-25
Location: Shala Zinken, Ringvägen 9 D
Course Period: May 22-25
Day: Sunday - Wednesday
Time: 7.15 am
Teacher: Peter Sanson
Price: 1800 SEK
Workshop Peter Sanson, start time 8:45 am May 17-20 och 22-25
Location: Shala Zinken
Course Period: May 17-20 och 22-25
Day: Tuesday - Friday and Sunday - Wednesday
Time: 8:45 am
Teacher: Peter Sanson
Price: 3200 SEK
Workshop Peter Sanson, start time 8:45 am May 17 - 20
Location: Shala Zinken
Course Period: May 17 - 20
Day: Tuesday - Friday
Time: 8:45 am
Teacher: Peter Sanson
Price: 1800 SEK
Workshop Peter Sanson, start time 8:45 am 22-25 May
Location: Shala Zinken
Course Period: 22-25 May
Day: Sunday - Wednesday
Time: 8:45 am
Teacher: Peter Sanson
Price: 1800 SEK